Have you tried a carrot apple zinger? The combination of the carrot, apple, and ginger together gives you the benefits of each of the various nutrients found in each food.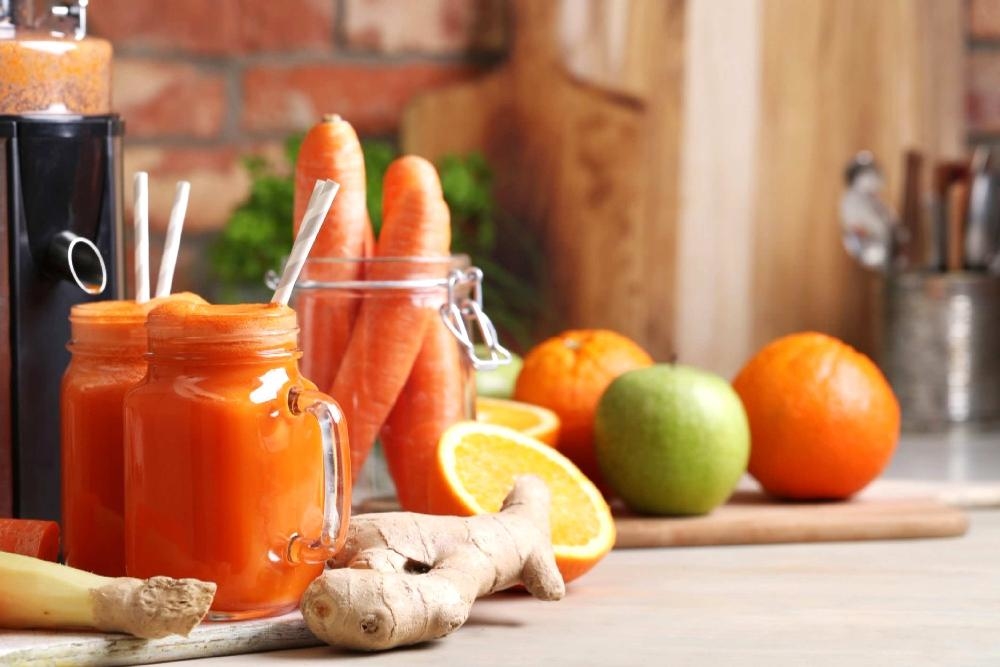 What are the benefits of carrot apple and ginger juice?
The combination of both vegetables and herbs offers a variety of benefits for your body, including:
Boosts your immune system:
carrots contain Vitamins A and C, plus ginger has antioxidant and anti-inflammatory properties that boost immunity
Reduces risk of cancer:
combo can help prevent growth of cells that increase risk of cancer; i.e., high levels of carotenoids in carrots can help prevent of cancers such as cervical, breast and colon
Manages diabetes:
ginger is known to lower blood sugar levels and improve the efficiency of insulin
Improves heart health:
beta-carotene, alpha-carotene and lutein in carrots reduce the risk of heart attack, while ginger helps reduce cholesterol level and regulate blood pressure
Keeps you looking young:
the high quantity of beta carotene in carrots help your skin look young and ginger has antioxidants that great in helping to prevent wrinkles
Zinger Juice Recipe
Time needed: 10 minutes
Refreshingly healthy carrot apple ginger zinger juice that is both energizing and easy to prepare.
Gather ingredients:

4 carrots, peeled
2 apples, cored and chopped
Sprinkle of ginger
(oranges can also be added if desired)

Wash all produce.
Juice the fruits and herb.
Enjoy your zinger!